Showing 1 to 3 of 3 (1 Pages)
Custom Coir Logo Mats
Coir logo mats are custom created natural fibre, coconut entrance mats featuring a company name, logo, branding or a welcome message. They offer all the dirt, grit and dust control benefits of a standard coir mat.
See our range of coir logo mats below:
Custom Cut-and-Inlaid
Coir Logo Mats
Specialist Branded Coir Matting
Coir Logo Mats are made from natural coconut fibres, extracted from the husk of a coconut. This husk is soaked in water for several months before being beaten to soften up the fibres. Coir matting is all-natural, low maintenance and can feature your logo or text using our cut-and-inlay production method.
Coconut coir is considered one of the strongest natural fibres in the world - making it perfect for the construction of doormats used in high traffic areas. It is also water-resistant and can naturally resist fungal and bacterial growth.
Coir logo mats are custom created natural fibre, coconut entrance mats featuring a company name, logo, branding or a welcome message. They offer all the dirt, grit and dust control benefits of a standard coir mat.
See our range of coir logo mats below: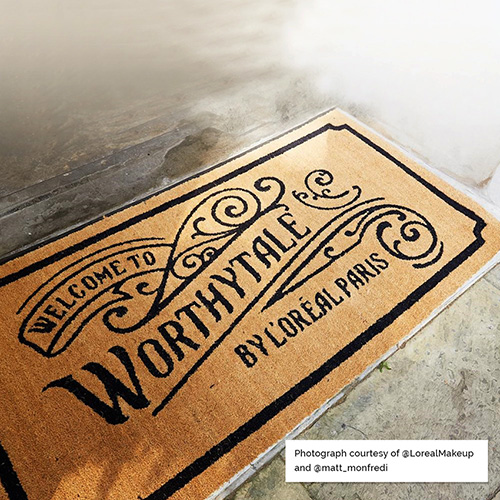 Traditional Coir Logo Mats
Coir logo mats offer an attractive, traditional, rustic style of door mat featuring your own custom design or logo. Our coir range is created utilising the 'cut and inlay' production method rather than the design being printed on. We can produce your custom coir logo mat to your exact size requirements.
The coarse rustic fibres scrape debris from passing foot traffic, quickly removing both wet and dry dirt, keeping your premises clean.
Our coir logo mats are extremely low maintenance and hard-wearing, simply lift them up and shake to release trapped dirt or give the mat a quick vacuum.
Natural Coconut Logo Mats
Our coir range of logo mats is made from natural coconut fibre in a simple, timeless design that is suitable for home, office or retail premises.
Currently available in a range of 9 attractive and natural colours, we can work with almost any logo or graphic you can provide.
Every coir logo mat is backed with a quality vinyl material that retains dirt and moisture inside the mat.
Coconut Fibre Logo Mats
Due to the traditional look and material used in our coir logo mats they are constructed in a different method from our soft cotton mats. Instead of ink being printed directly onto the mat (in a very similar way to a paper printer) different colour coconut fibres are cut and inlaid into the surface of the coir mat.
This skilled technique takes longer than printed logo mats and doesn't have the huge number of colour options available from a jet-printed custom mat but the quality and look of the end result is incredibly classic and stylish.
For a classic traditional look: we particularly recommend black graphics, as this contrasts extremely well with the natural colour of the coir fibres.
Why choose a coir logo mat?
Coir logo mats, also known as coir personalised mats or natural logo mats, have a range of benefits you may not have thought about, such as:
Safety
Safety is one of the main considerations for any business or other type of establishment, and coir mats in our standard coir mat range or our coir logo mats have a surprisingly effective and natural ability to keep people safe.
Firstly, coir mats (also commonly known as coconut logo mats) have a wonderful, natural absorbency that helps to keep feet and floors dry to prevent slipping, and secondly, the coarse fibres of coir mats are exceptional at removing germ-filled dirt and grime.
A great first impression
First impressions matter, especially in business. So by choosing a high-quality, beautifully designed and crafted coir logo mat, you're already off to a great start.
Your coir logo mat will be one of the first things your customers see and feel beneath their feet, and that welcoming feeling will instantly make them feel comfortable and secure and ready to do business.
It's a marketing opportunity
Whatever logo or design you choose, whether traditional or ultra-modern, personalised coir door mats are an amazing marketing opportunity, a chance to showcase your brand the moment a customer walks in.
At Ideal Mats, we're able to create many logos and designs on natural coir mats using the unique 'cut and inlay' method (rather than printing) to ensure your stunning design lasts the duration, no matter what the footfall.
They help keep floors clean
As well as for safety reasons, keeping floors clean and dry gives your business that professional look and lets clients and customers know you have high standards.
By installing a coir logo mat at the entrance of your premises, whether in a mat well or not, moisture is quickly absorbed and most dirt is removed as people enter, preventing it from spreading around the floors or getting ground into the carpets.
Why is a 'cut and inlay' process better than printing for coir logo mats?
Whilst printing directly onto coir mats is fast, the ink will only adhere to the surface or one side of the coir fibres, making it much more likely to fade during usage.
At Ideal Mats, we utilise a 'cut and inlay' method to reproduce your logo or other design onto your coir logo mat. The process is slightly more labour intensive, but the results are truly stunning, as you can see from our logo mat gallery.
The cut and inlay method is a process of cutting out the area of the mat and inserting different coloured coir fibres to represent your logo, message or graphic. This method not only gives a more defined image but also means the image will remain clear and vibrant for a much longer period.
See our full range of logo mats
Looking for a wider range of colours or a more modern mat?
We also a huge range of other logo mat products, check them out here.
We also supply logo rugs
As well as our coir branded mats, at Ideal Mats we also supply logo rugs. Made from highly durable nylon, our logo rugs can be printed with whatever design you choose (including HD photography) and in whatever colour you choose.
Each logo rug also has a nitrile rubber backing to help prevent slipping, which is available in a choice of 300 different colours.